The Large Open Pit (LOP) Project is an industry-sponsored, international research and technology transfer project, which commenced in April 2005 with the aim of addressing an industry wide need for improved knowledge of rock slope failure in open pit mines. The 2005 agreement envisaged the project would last for at least four years. In the event, it continued until June 2014, courtesy of the support of twelve (12) international large open pit mining companies, under the management of Dr John Read of the CSIRO. In 2016, the LOP Project entered its Phase II (i.e. LOP II) with from eight (8) international mining companies, initially under the management of Professor Marc Ruest, then Professor David Williams and Dr Mehdi Serati.
Our vision
to advance the state‐of‐the‐art in surface mine geotechnical design and operation through targeted research. The research is intended to be practical and pragmatic with a short‐to‐mid‐term delivery of advances to the industry of 3‐10 years; and
to continue the LOP tradition of peer knowledge exchange through close interaction between sponsor representatives and through site visits to operating mines as well as service provider and supplier centres. This information exchange has demonstrated itself to be an invaluable result of the original LOP project.
Since 2005
The LOP project has been sponsored by a diverse consortium of the majority of the world's largest multinational mining companies, joint venture partners and individual mines including Anglo American plc; AngloGold Ashanti Limited; Barrick Gold Corporation; BHP Chile; BHP Billiton Innovation Pty Limited; Corporación Nacional de Cobre Del Chile (Codelco); Compañía Minera Doña Inés de Collahuasi SCM; De Beers Group Services (Pty); Debswana Diamond Company; Newcrest Mining Limited; Newmont Australia Limited; Ok Tedi Mining Limited; Technological Resources Pty Ltd (RioTinto Group); Teck Resources Limited; Vale; and Xstrata Copper Queensland. Direction for the project has been provided by the geotechnical fraternity through sponsor representation from these organizations.
Published Guidelines
Among the initiatives mandated by the LOP sponsors is the development of the following series of reference books on various aspects related to the design and stability of large slopes associated with open pit mines. For more information about the LOP Guidelines, see here.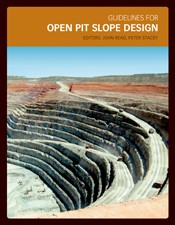 Guidelines for Open Pit Slope Design (Read and Stacey 2009)
The first book covers the fundamentals of geotechnical investigation, analysis, design, and monitoring of open pit slopes. It represents the first comprehensive publication on this subject since the Pit Slope Manual was published by the Canadian Centre for Mining and Metallurgy (CANMET) in 1977.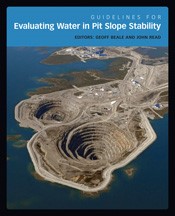 Guidelines for Evaluating Water in Pit Slope Stability (Beale and Read 2013)
The second book covers the key influences of groundwater on the stability of open pit slopes and includes chapters on groundwater investigation, modelling of pore pressures and inflows, dewatering and depressurisation techniques and monitoring.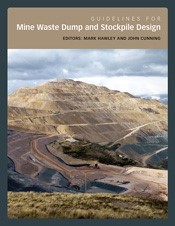 Guidelines for Mine Waste Dump and Stockpile Design (Hawley and Cunning 2017)
The third book focuses on the investigation, design, operation and monitoring of waste dumps, dragline spoils and stockpiles associated with large open pit mines. This book has been written by a consortium of geotechnical consultants and individuals including Piteau Associates Engineering Ltd, Golder Associates Ltd, Schlumberger Water Services, Sherwood Geotechnical and Research Themes Inc., Dr. Oldrich Hungr and Dr Ward Wilson.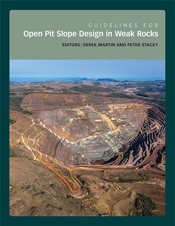 Guidelines for Open Pit Slope Design in Weak Rocks (Martin and Stacey 2017)
The fourth book focuses on the unique aspects of open pit slope development in weak rocks and other materials whose characteristics and behaviour fall between rock and soil. It follows the general cycle of the slope design process for open pits, from first steps such as field data collection and aspects of determining the strength of weak rocks, to an examination of weak rock types, and finally design implementation and operational considerations.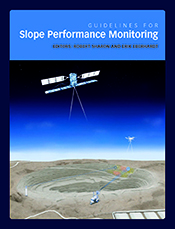 Guidelines for Slope Performance Monitoring
The next book in the series compiles the current and suggested practice for open pit operators, from field identification through to system design and operations support. Each topic is illustrated with several examples and case histories, demonstrating lessons learned.