A comprehensive and robust slope performance monitoring system is an essential component of the risk management program in an open pit mining operation. Local conditions and experience should drive the development of the monitoring program, and development of an early warning system. Consideration must also be given to available monitoring alternatives versus local operational requirements with a recognition that monitoring technology is changing rapidly. This requires serious effort to understand the capabilities and limitations of the instrumentation selected to ensure that the monitoring system is and remains effective and reliable.
Performance monitoring of open pit slopes is directed at safe and economic open pit development. Emphasis is placed on practical matters of operations support, including the human resources required to manage the monitoring system, including the appropriate skill-sets and continuing training requirements. For successful implementation, it is important to understand essential monitoring requirements of the mine site, including at least a basic understanding of potential failure mechanisms.
In compiling the book, the editors received invaluable input and assistance from the sponsors, industry practitioners, and equipment and software suppliers. The Preface and acknowledgements section at the front of the book is a feature worth examination.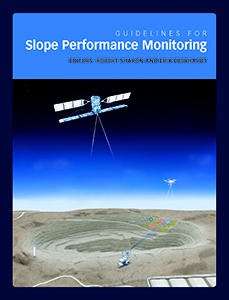 Robert Sharon

Erik Eberhardt
Chapter Outlines
A Guidelines for Slope Performance Monitoring book contain 10 chapters as detailed below. Opportunities for improvement are evident from continuing advances made in instrument capability, data communications, speed, and integration of data that come from improvements in computing, and the ability to acquire data using remote methods that will continue to be required from the mine operators/owners.  Innovation applied to the development of new instrumentation and remote monitoring, investigation, and problem solving will be driven by mine operators who seek to automate their operations and remove people from potentially hazardous conditions. Motivation for increasing automation of mining operations is driven by safety performance, economy (budgets and staffing), and risk management.
As mining operations evolve towards increasing automation, it is anticipated that geotechnical performance monitoring systems will also become increasingly automated. Data management, interpretation, and results reporting from instrumentation will also become increasingly automated. A primary goal of such a performance monitoring system will be to manage critical procedural controls in real-time that will maximise geomechanics risk management in the automated mining environment.